Armored Thundercats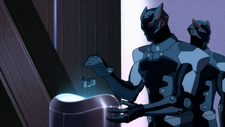 First appearance | Legacy
Last appearance | Legacy
Voiced by | Various Voices
Statistics
Name | Armored Thundercats
Gender | Male
Species | Cat
Affiliation | ThunderCats
Weapon(s) | Staff-like weapons that have a shocking mechanism inside of them
The Armored Thundercats are the cat-like bodyguards who were in charge of keeping watch over the prisoners in their holding cells. Each Armored Thundercat is armed with a staff-like weapon that is able to shock a prisoner if he/she gets out of hand. After a "rebellious" riot, they attached special security collars on each prisoner for if they try to escape, detonates on cue.
Gallery
Ad blocker interference detected!
Wikia is a free-to-use site that makes money from advertising. We have a modified experience for viewers using ad blockers

Wikia is not accessible if you've made further modifications. Remove the custom ad blocker rule(s) and the page will load as expected.