Arrietta Bird
Statistics
Name | Arrietta Bird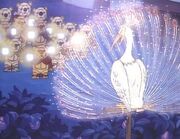 The Arrietta bird is a magnificent singing bird native to Third Earth.
History
While this species is very scarce (it's very likely that there is only one left), when it shows up to sing its song, the Berbils know that they will have a good harvest. Queen Tartara is always trying to steal the Arrietta bird so that it can sing exclusively for her and her alone in her Crystal Kingdom.
Appearances
Ad blocker interference detected!
Wikia is a free-to-use site that makes money from advertising. We have a modified experience for viewers using ad blockers

Wikia is not accessible if you've made further modifications. Remove the custom ad blocker rule(s) and the page will load as expected.