Astral Moat Monster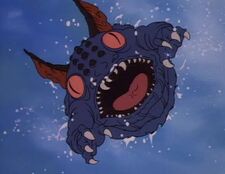 Statistics
Name | Astral Moat Monster
Gender | Beast
Species | Monster
Affiliation | Beasts
Weapon(s) | None
Voiced by  | None
The Astral Moat Monster guards the entryway of the Astral Prison. It resides in the moat around the prison to attack any trespassers.
While its small wings do not give it the ability to fly, they nevertheless help it to make big leaps. Its strong claws enable it to climb the steep walls of the Astral Prison to pursue any who dare intrude.
Appearances
Ad blocker interference detected!
Wikia is a free-to-use site that makes money from advertising. We have a modified experience for viewers using ad blockers

Wikia is not accessible if you've made further modifications. Remove the custom ad blocker rule(s) and the page will load as expected.