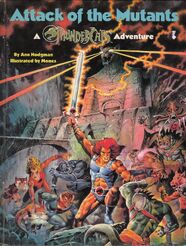 Attack of the Mutants
Hard cover, November 1985, 29 Pages
Published by: Random House
Story by: Ann Hodgman. Adapted from the teleplay by Julian P. Gardner.
Illustrated by: Mones
S-S-Slithe commands a hideaous Mutant army of Jackalmen, Monkians, and Reptilians. Mumm-Ra is a seven-thousand-year-old bundle of evil who can change his shape at will. Divided, they are no match for the awesome ThunderCats. But united...?
This book is a retelling of Pumm-Ra (episode)