Battle of the Planets/ThunderCats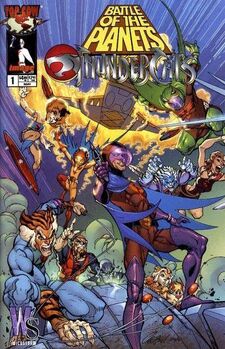 In May 2003, Wildstorm and Top Cow released the first one-shot crossover comic between the ThunderCats and Battle of the Planets, which had two variant covers.
Summary
The planet is New Thundera, home of the coveted ore, Thundrillium. Upon arrival, G-Force meets some unexpected allies who are also trying to fight off Spectra and save their planet ? the Thundercats! When these two teams join forces, nothing can stand in their way and you're DEFINITELY going to want to see this explosive issue!
Note: This is the first of two ThunderCats/Battle of the Planets crossover issues. The stores of the two issues are not connected to each other. However, the variant covers of the two issues, done by Alex Ross, can be laid side-by-side to form one big image.
Variant Cover
Ad blocker interference detected!
Wikia is a free-to-use site that makes money from advertising. We have a modified experience for viewers using ad blockers

Wikia is not accessible if you've made further modifications. Remove the custom ad blocker rule(s) and the page will load as expected.