Book of Omens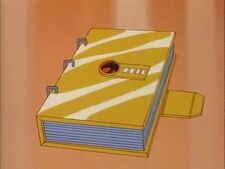 Statistics
Name | Book of Omens
Affiliation | ThunderCats
The Book of Omens is a legendary Book. A relic from the Treasure of Thundera that contained a great amount of knowledge and all the secrets of the ThunderCats. It is kept in a hidden chamber supported by pillars with the carved images of dragons.
The Book can be entered by using the Key of Thundera. The entity within the Book of Omens requires the Key of Thundera in order to give off it's secrets or else it will have the dragon heads wrapped around the nearby pillars attack the person in question.
Ad blocker interference detected!
Wikia is a free-to-use site that makes money from advertising. We have a modified experience for viewers using ad blockers

Wikia is not accessible if you've made further modifications. Remove the custom ad blocker rule(s) and the page will load as expected.