Cheetara Hard Hero Statue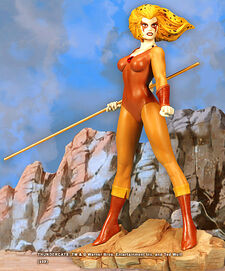 Statistics
Name | Cheetara Hard Hero Statue
Affiliation | ThunderCats
Material: Cold cast porcelain
Size: 11"
Sculpted By: Paul Bennett
Art Director: Rob Potts
Painted By: David Fisher
This is the second ThunderCats statue made by Hard Hero. It was based on the 80's ThunderCats version of Cheetara. Her pose is taken from the intro sequence of the ThunderCats (original series) cartoons. When Hard Hero first released pictures of the Cheetara statue, fans were unhappy with her facial expressions and so Hard Hero changed her facial appearance to more closely resemble Cheetara.
Ad blocker interference detected!
Wikia is a free-to-use site that makes money from advertising. We have a modified experience for viewers using ad blockers

Wikia is not accessible if you've made further modifications. Remove the custom ad blocker rule(s) and the page will load as expected.