Child of Gorgon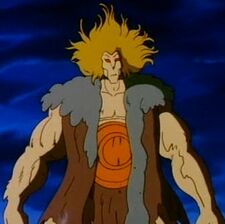 Statistics
Name | Child of Gorgon
Gender | Male
Species | Giant
Affiliation | Third Earth
Weapon(s) | Magic
Voiced by  | None
The Child of Gorgon is an evil giant that was imprisoned in stone thousands of years ago, The formation became known as the Hills of Elfshima, an anagram for I AM FLESH. Mumm-Ra woke the Child by using the Sword of Omens' Sight Beyond Sight ability on the Mask of Gorgon. Lynx-O and Ben-Gali in the Thunderstrike defeated the giant by shooting it in its eardrum. When the mask gets smashed apart, restoring everyone who had been turned to stone, the giant back is turned back into the the Hills of Elfshima.
Appearancess
Ad blocker interference detected!
Wikia is a free-to-use site that makes money from advertising. We have a modified experience for viewers using ad blockers

Wikia is not accessible if you've made further modifications. Remove the custom ad blocker rule(s) and the page will load as expected.