Ice King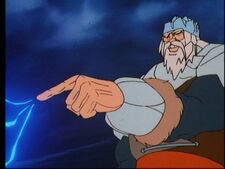 Statistics
Name | Ice King
Gender | Male
Species | Snowmen
Affiliation | Hook Mountain
Weapon(s) | Ice
Voiced by  | None
The Ice King is an ancient King who, through a series of events, is freed from his icy prison and causes troubles for the ThunderCats and Snowman.
Initially, the ThunderCats and the Snowman think that the Ice King is evil but once they discover that he is only looking for an ancient egg to see his wife one last time before he dies, they help him to locate the egg inside the Snowman's Castle.
Appearances
Ad blocker interference detected!
Wikia is a free-to-use site that makes money from advertising. We have a modified experience for viewers using ad blockers

Wikia is not accessible if you've made further modifications. Remove the custom ad blocker rule(s) and the page will load as expected.