Jaga Staction Figure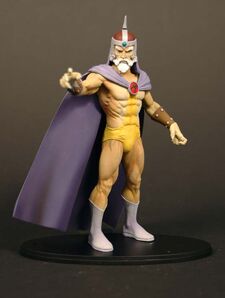 Statistics
Name | Jaga Staction Figure
Affiliation | ThunderCats
Material: PVC
Size: 6"
Release date: June-August 2011
Part of the ThunderCats statue line made by Icon Heroes, Jaga was first revealed to the public during the 2010 San Diego Comic Convention (SDCC). He was based on the 80's ThunderCats version of Jaga . Initially announced as part of the resin mini-statue line, he was reintroduced as one of the first figures to be released in the PVC Staction line. Each PVC staction figure included the ability to have removable features and/or parts. Jaga came with two heads — the first head depicted him as he was shown in the first episode of the original series, Exodus and the second head showed Jaga with his helmet, which he is shown wearing in most of his appearances throughout the series. Each staction also came with a black display stand.
Ad blocker interference detected!
Wikia is a free-to-use site that makes money from advertising. We have a modified experience for viewers using ad blockers

Wikia is not accessible if you've made further modifications. Remove the custom ad blocker rule(s) and the page will load as expected.