Juliet Rose Landau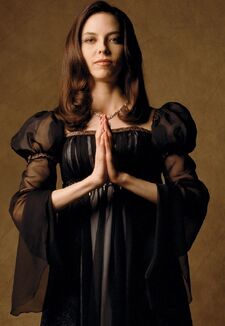 Statistics
Name | Juliet Rose Landau
Affiliation | ThunderCats

Juliet Rose Landau (born March 30th, 1965) is an American actress who is best known for playing the role of the vampire Drusilla in Buffy the Vampire Slayer and Angel on which she was a co-writer. She is the daughter of actors Martin Landau and Barbara Bain.
Her most notable movie appearance was that on Tim Burton's Ed Wood. She has done voice work for a number of animated series including Justice League Unlimited, Ben 10, and Green Lantern: The Animated Series.
She voices The Queen in the new ThunderCats (2011 TV series)
Ad blocker interference detected!
Wikia is a free-to-use site that makes money from advertising. We have a modified experience for viewers using ad blockers

Wikia is not accessible if you've made further modifications. Remove the custom ad blocker rule(s) and the page will load as expected.