LJN Toyline: Big Wheel Pedal Bike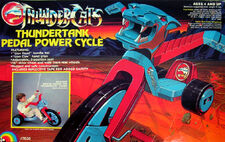 This is an image of the box of the Big Wheel Pedal Bike.
From Toyline
:
LJN Toyline
Series  :  Series 1
The Big Wheel is a child-sized tricycle that was released as part of the LJN Toyline.
Assortment Number
Features
The sleek, stylized, three-wheel cycle captured the action and excitement of the ThunderTank and other ThunderCat vehicles from the hit TV show.
The Pedal Power Cycle had the following features:
"Lion Head" handle bar
"Lion Claw" hand grips
Adjustable, 3-position seat
Built-in sword holder for the Sword of Omens
16" drive wheel and wide track rear wheels
Rugged and safe construction

The bike also included reflective tape for added safety.
Gallery
Ad blocker interference detected!
Wikia is a free-to-use site that makes money from advertising. We have a modified experience for viewers using ad blockers

Wikia is not accessible if you've made further modifications. Remove the custom ad blocker rule(s) and the page will load as expected.