LJN Toyline: Big Wheel Pedal Bike
This is an image of the box of the Big Wheel Pedal Bike.
From Toyline
:
LJN Toyline
Series  :  Series 1
The Big Wheel is a child-sized tricycle that was released as part of the LJN Toyline.
Assortment Number
Features
The sleek, stylized, three-wheel cycle captured the action and excitement of the ThunderTank and other ThunderCat vehicles from the hit TV show.
The Pedal Power Cycle had the following features:
"Lion Head" handle bar
"Lion Claw" hand grips
Adjustable, 3-position seat
Built-in sword holder for the Sword of Omens
16" drive wheel and wide track rear wheels
Rugged and safe construction

The bike also included reflective tape for added safety.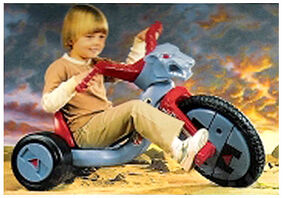 Gallery