LJN Toyline: Lizzor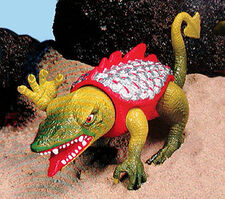 This is an image of Lizzor
From Toyline
:
LJN Toyline
Series  :  Unproduced
Features  :  Not known
Accessories  :  None
Lizzor is an unproduced toy of the LJN Toyline. This figure never appeared in any episode of the ThunderCats (original series) cartoons. Lizzor only appeared in the 1986 LJN Dealers Catalogue.
Lizzor was actually a modified version of another figure known as "Bullete" which was supposed to be part of LJN's other toyline, Advanced Dungeons and Dragons. However, the figure never went into production and that is why LJN decided to modify it and include it in the ThunderCats line.
Essentially the figure used the same basic design of Bullete with a few minor modifications such as color. Lizzor appeared to be a cross between a lizard and an armadillo. The figure was about the size of the Nosediver and had green limbs, tail and head with a red torso.
Since the toy never went into production, it is difficult to know how it functioned exactly or if it had any special features. However, it appears that the figure was most likely similar to the Astral Moat Monster with poseable limbs and head but no "Battle-Matic" Action.
Gallery
Ad blocker interference detected!
Wikia is a free-to-use site that makes money from advertising. We have a modified experience for viewers using ad blockers

Wikia is not accessible if you've made further modifications. Remove the custom ad blocker rule(s) and the page will load as expected.