LJN Toyline: Ma-Mutt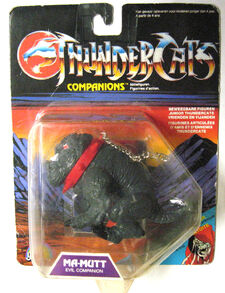 This is an image of Ma-Mutt as he appears in Series 2
From Toyline
:
LJN Toyline
Series  :  Series 2 and Series 3
Features  :  Poseable arms, legs and head.
Accessories  :  Attached Chain
Ma-Mutt is a toy that was released in Series 2 and Series 3 of the LJN Toyline and is based on the 80's version ThunderCats series character Ma-Mutt.
Assortment Number
Features
The toy featured poseable arms, legs, and head unlike the PVC Ma-Mutt/Ravage figure that was included with the Mumm-Ra figure in Series 2.
This figure was released as part of the ThunderCats "Companions" sub-line. The backing cards of this sub-line were smaller in size than the regular ThunderCats figure cards. Also these cards had a mountainous background painted on them instead of the plain black background.
Accessories
The figure came with an attached chain around its red plastic collar.
Variations
There are two known variations of the figure, one had a black plastic chain and the other had a silver metal chain.
Gallery
Ad blocker interference detected!
Wikia is a free-to-use site that makes money from advertising. We have a modified experience for viewers using ad blockers

Wikia is not accessible if you've made further modifications. Remove the custom ad blocker rule(s) and the page will load as expected.