LJN Toyline: Mumm-Ra
This is an image of Mumm-Ra as he appears in Series 1.
From Toyline
:
LJN Toyline
Series  :  Series 1 through Series 3
Features  :  Battle-Matic Action lever on the back to move Mumm-Ra's arm. Light-up eyes.
Accessories  :  Sword, Dagger, Headdress, Power Ring, (Series 1 variant) Free Battery, (Series 2 only) Ravage PVC
Mumm-Ra is a toy that was released in every series of the LJN Toyline and is based on the 80's version ThunderCats series character Mumm-Ra.
Assortment Number
3515 (Series 1)
3527 (Series 1 with battery)
3510 (Series 2)
3522 (Series 2 with Ravage)
3501 (Series 3)
Features
The toy featured the "Battle-Matic Action" whereby pushing down the lever on its back, made both of Mumm-Ra's arms move up and down. The figure also had poseable head, arms and legs.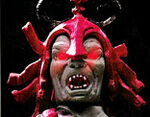 The Mumm-Ra figure also had
"Light Up Eyes".
When the included Power Ring was inserted into the contact point on the figure's back, it made
Mumm-Ra's
eyes light up. The Power Ring required one AAA Battery to operate. The only other toy in the Thundercats line which had this feature was the
Lion-O
figure.
Accessories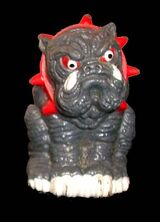 Accessories included with the figure were a Sword, a Dagger, a Headdress and the Power Ring. The Sword had a black blade and a red handle while the dagger had a black handle and a silver blade (see variations). The Headdress was made of red plastic with the two snake heads painted black. The Power Ring consisted of a compartment to house the AAA Battery and at one end it had the contact point. The bottom part was ring-shaped so that it could be worn on the finger. Mumm-Ra's Power Ring had the "Twin snakes" insignia sticker on top of it.
Some Series 1 figures also included a free "Energizer" AAA Battery while the Series 2 figure included a PVC Ravage (Ma-Mutt). The PVC Ravage did not have any articulations or features. When LJN released its second wave of ThunderCats toys, a much larger and fully articulated Ma-Mutt figure was released as a separate toy.
Variations
There were two common variations of this figure. One version had a dark red headdress, skirt and sword handle while the other version had a lighter red colored skirt and accessories. There were also three variations of the included Dagger accessory. One had a silver blade, one had a grey blade and the third had a black blade.
Gallery
Ad blocker interference detected!
Wikia is a free-to-use site that makes money from advertising. We have a modified experience for viewers using ad blockers

Wikia is not accessible if you've made further modifications. Remove the custom ad blocker rule(s) and the page will load as expected.