LJN Toyline: Mummy Mumm-Ra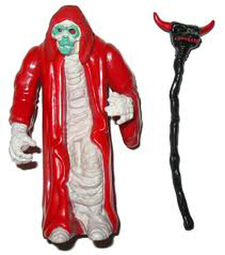 This is an image of the Mummy Mumm-Ra figure
From Toyline
:
LJN Toyline
Series  :  Series 2 and Series 3
Features  :  Poseable arms and head..
Accessories  :  Staff
Mummy Mumm-Ra is a toy that was released in Series 2 and Series 3 of the LJN Toyline and is based on the 80's version ThunderCats series character Mumm-Ra's mummy form.
Features
The figure had poseable arms and head. This toy was offered as a mail away exclusive and also included with LJN Toyline: Mumm-Ra's Tomb Fortress playset. Because of this, the Mummy Mumm-Ra figure never came carded like the other figures in the toyline. This was the only figure in the line to be offered as a mail-away exclusive.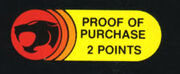 All Series 2 cards as well as re-used Series 2 cards with Series 3 figures packed on them promoted the free Mumm-Ra figure offer. To receive the free Mumm-Ra figure one would need to collect "Proof of Purchase" Tokens that were found on the reverse packaging of most toys. All the figures and small vehicles had a token on the packaging to the value of 2 points. Bigger toys like the
Fist Pounder
,
Mumm-Ra's Tomb Fortress
and
Tongue-A-Sauras
boxes had a proof of purchase token to the value of 4 points, while the
Cats Lair
box had a token to the value of 6 point. Once the tokens were collected they would need to be mailed to the address provided along with the sender's name, address and a cheque or money/postal order for Postage and Packaging. The collector would then receive their Mumm-Ra figure within 1-6 months.
Accessories
The only accessory included with the figure was the black Staff.
Variations
There are no known variations of this figure.
Gallery
Ad blocker interference detected!
Wikia is a free-to-use site that makes money from advertising. We have a modified experience for viewers using ad blockers

Wikia is not accessible if you've made further modifications. Remove the custom ad blocker rule(s) and the page will load as expected.