LJN Toyline: Pumyra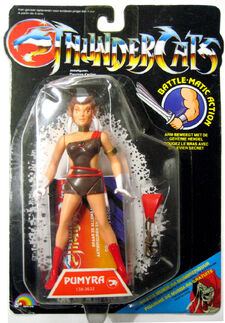 This is an image of Pumyra as she appears in Series 3
From Toyline
:
LJN Toyline
Series  :  Series 3
Features  :  Battle-Matic Action lever on the back to move Pumyra's arm.
Accessories  :  Sling
Pumyra is a toy that was released in Series 3 of the LJN Toyline and is based on the 80's version ThunderCats series character Pumyra.
Assortment Number
Features
The toy featured the "Battle-Matic Action" whereby pushing down the lever on its back made Pumyra's arm move up and down. The figure also had poseable arms, head, and legs.
Accessories
The only accessory included with the figure was the Sling. The Sling consisted of a red plastic piece tied together by a brown string.
Variations
There are no known variations of this figure.
Gallery