LJN Toyline: Red Lion-O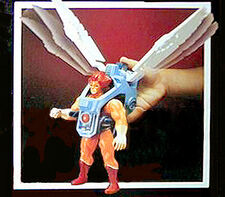 This is an image of Red Lion-O
From Toyline
:
LJN Toyline
Series  :  Unproduced
Features  :  Not known
Accessories  :  Not known
Red lion-O or Evil Lion-O is an unproduced toy of the LJN Toyline and is based on the 80's version ThunderCats series character Lion-O (mirror).
The toy appeared on few catalogues and also on the packaging card of the Thunderwings Lion-O where it is shown wearing the Thunderwings. The Red Lion-O, like its cartoon counterpart, has red outfit and red boots.
Since the toy never went into production and no other pictures of it ever appeared on any catalogues, it is not known whether it had the "Battle-Matic" arm action and/or the "Light-Up" eyes feature like the normal Lion-O. It is also not known if the Red Lion-O would have come with accessories like the Sword of Omens and the Claw Shield.
In 2012, Bandai released its own version of the Red Lion-O as part of its "Classics" 8 inches line. The figure was available exclusively at the Singapore Toy, Games and Comic Convention (STGCC).
Gallery
Ad blocker interference detected!
Wikia is a free-to-use site that makes money from advertising. We have a modified experience for viewers using ad blockers

Wikia is not accessible if you've made further modifications. Remove the custom ad blocker rule(s) and the page will load as expected.