LJN Toyline: Tongue-A-Saurus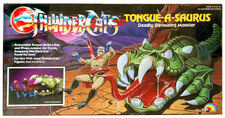 This is an image of the Tongue-A-Saurus Box
From Toyline
:
LJN Toyline
Series  :  Series 3
Features  :  Retractable tongue to grab other figures and pull into the creature's mouth.
Accessories  :  None
Tongue-A-Saurus is a toy that was released in Series 3 of the LJN Toyline and is based on the 80's version ThunderCats series character Tongueosaurus.
Assortment Number
Features
The Tongue-a-saurus was the largest figure in the LJN Toyline, being almost the same size as the ThunderTank
The toy had the following features:
Retractable tongue strikes out and wraps around the victim, snapping him back into powerful jaws.
Push handle in to extend tongue.
By turning handle left or right, tongue can be positioned to grab figure.
Pull handle all the way out to draw figure into mouth.

Accessories
The figure did not come with any accessories.
Variations
There are no known variations of the this figure. However, some Tongue-A-Saurus boxes had the "Extra Value" offer in which a free
Safari Joe
figure was included.

Some catalogues featured the Tongue-A-Saurus with two arms. This was most likely a prototype and the "arm-less" version was the one which went into production.
Gallery
Ad blocker interference detected!
Wikia is a free-to-use site that makes money from advertising. We have a modified experience for viewers using ad blockers

Wikia is not accessible if you've made further modifications. Remove the custom ad blocker rule(s) and the page will load as expected.