LJN Toyline: Top Spinner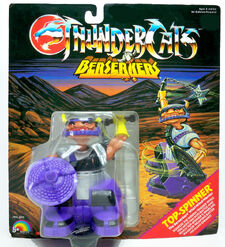 This is an image of Top Spinner as he appears in Series 2
From Toyline
:
LJN Toyline
Series  :  Series 2 and Series 3
Features  :  Spinning Action
Accessories  :  Attached Mace and Shield
Top Spinner is a toy that was released in Series 2 and Series 3 of the LJN Toyline and is based on the 80's version ThunderCats series character Top Spinner.
Assortment Number
Features
All the "Berserkers" figures were packaged slightly differently than the other figures in the toyline. The toy's card had a hole in the middle in which the figure would stand with the plastic bubble enclosing it from both the front and the back. This different packaging was probably due to the size of the Berserker figures
Each Berserker figure's card also had a different illustration depicting the character in action. Top Spinner's card showed him spinning in action.
Like the other "Berserkers", Top Spinner featured a unique Mechanical "Battle-Matic Action". Pressing the lever on his back, made the figure spin into action. The figure also had poseable arms and head.
Top Spinner was originally called "Tornado" and this was the name that appeared in some of the earlier LJN catalogues.
Accessories
The figure came with an attached Mace and a Shield.
Variations
There are no known variations of this figure.
Gallery
Ad blocker interference detected!
Wikia is a free-to-use site that makes money from advertising. We have a modified experience for viewers using ad blockers

Wikia is not accessible if you've made further modifications. Remove the custom ad blocker rule(s) and the page will load as expected.