LJN Toyline: Wilykat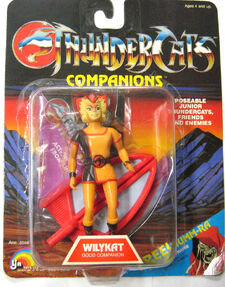 This is an image of Wilykat as he appears in Series 2
From Toyline
:
LJN Toyline
Series  :  Series 2 and Series 3
Features  :  Poseable arms, legs and head.
Accessories  :  Hover Board
Wilykat is a toy that was released in Series 2 and Series 3 of the LJN Toyline and is based on the 80's version ThunderCats series character Wilykat.
Assortment Number
Features
The toy featured poseable arms, legs and head unlike the PVC Wilykat figure that was included with the Tygra figure in Series 2.
This figure was released as part of the ThunderCats "Companions" sub-line. The backing cards of this sub-line were smaller in size than the regular ThunderCats figure cards. Also these cards had a mountainous background painted on them instead of the plain black background.
Accessories
The only accessory included with the figure was the Hover board. The Hover Board had a small projection that fitted into the corresponding hole in the figure's leg, allowing it to stand on the board without falling over. An interesting thing to note is that the Hover board that appeared on the catalogues and card backs was significantly different than the one that was eventually produced.
Variations
There are no known variations of this figure.
Gallery