Lion-O Mini Statue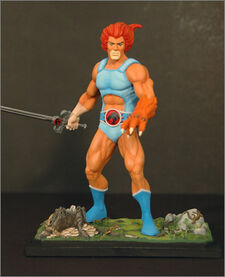 Statistics
Name | Lion-O Mini Statue
Affiliation | ThunderCats
Material: Resin
Size: 6"
Release date: July 2010
This is the first ThunderCats statue made by Icon Heroes. It is based on the 80's ThunderCats version of Lion-O . He is depicted holding the Sword of Omens and wearing the Claw Shield, standing on a forest environment base.
In the same year, an exclusive version was released at the San Diego Comic Convention (SDCC). The SDCC exclusive had a sand-themed diorama base, while the regular edition mini-statue had a forest-themed diorama base. In addition, the SDCC exclusive displayed Lion-O holding the Sword of Omens in its short form, while the regular edition had the sword in its full-length version. An exclusive ThunderCats magnet was also given out with each statue sold at the convention.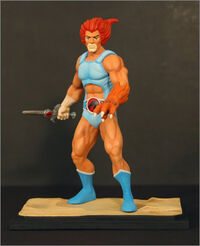 Ad blocker interference detected!
Wikia is a free-to-use site that makes money from advertising. We have a modified experience for viewers using ad blockers

Wikia is not accessible if you've made further modifications. Remove the custom ad blocker rule(s) and the page will load as expected.