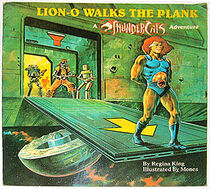 Lion-O Walks the Plank
Soft cover, September 1986, 32 Pages
Published by: Random House
Story by: Regina King. Adapted from the teleplay by William Overgard.
Illustrated by: Mones
SHIVER ME TIMBERS! Lion-O, young Lord of the ThunderCats, has been captured by the evil pirate Captain Cracker. On board Cracker's spaceship, he's being forced to take a long walk off a short plank - a million miles out in space!
This book is a retelling of Mandora and the Pirates
Ad blocker interference detected!
Wikia is a free-to-use site that makes money from advertising. We have a modified experience for viewers using ad blockers

Wikia is not accessible if you've made further modifications. Remove the custom ad blocker rule(s) and the page will load as expected.