Mezco Toyline: Lion-O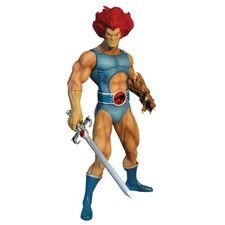 Lion-O is a toy that was released by Mezco and is based on the 80's version ThunderCats series character Lion-O.
Standing 14 inches tall and featuring 7 points of articulation, this mega figure is superbly detailed, perfectly capturing not only the iconic look of Lion-O as he appeared in the classic television series, but the essence of Lion-O as he proudly raises the mystic Sword of Omens towards the heavens and roars out "Thundercats, Ho!". The figure comes complete with the impressive Claw Shield and a removable mystic Sword Of Omens.
Lion-O is packaged in a collector friendly window box that allows him to be displayed while remaining Mint In Box.