Mule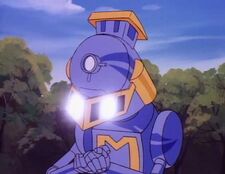 Mule is Safari Joe's robot assistant. His programming contains detailed profiles on each of the ThunderCats including their strengths and weaknesses.
History
Safari Joe's robotic assistant who helps to assemble traps, using a computerized analyzer to provide information on his prey. After Safari Joe was defeated by Lion-O, Mule was reprogrammed by Panthro to make sure Safari Joe keeps his word to never hunt again.
Appearances
Ad blocker interference detected!
Wikia is a free-to-use site that makes money from advertising. We have a modified experience for viewers using ad blockers

Wikia is not accessible if you've made further modifications. Remove the custom ad blocker rule(s) and the page will load as expected.