Mumm-Ra Pop Culture Statue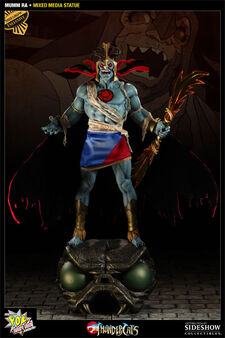 Statistics
Name | Mumm-Ra Pop Culture Statue
Affiliation | ThunderCats

Material: Mixed Media
Size: 26"
Weight: 15 lbs
Sculpted By: Khurram Alavi
Art Director: Jerry Macaluso
Painted By: Mike Najera
Distributed by: SideShow Collectibles
This 1/4 th scale Mumm-Ra statue is the second and final ThunderCats statue released by Pop Culture Shock.. The look of the statue is inspired form the Ed McGuinness artwork from the popular Reclaiming Thundera series. The statue is cast in high quality polystone and dressed with real fabric. Pop Culture Shock Collectibles made two variations of the Mumm-Ra statue. The second version of the statue featured eyes that light-up and was exclusive to SideShow Collectibles.