Mumm-Ra with Ma-Mutt Hard Hero Statue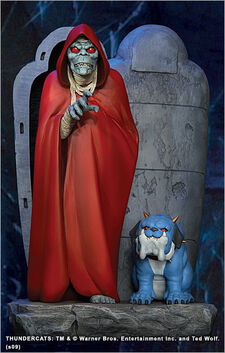 Statistics
Name | Mumm-Ra with Ma-Mutt Hard Hero Statue
Affiliation | ThunderCats

Material: Cold cast porcelain
Size: 10"
Sculpted By: Paul Bennett
Art Director: Rob Potts
Painted By: David Fisher
This is the third ThunderCats statue made by Hard hero. It was based on the 80's ThunderCats version of Mumm-Ra . The statue depicts Mumm-Ra in his mummy form exiting his sarcophagus with a menacing spell casting hand reaching out in front of him. As a bonus, the statue came with a removable Ma-Mutt companion who was also based on his 80's ThunderCats counterpart .