Mutank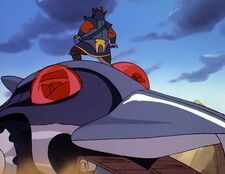 Statistics
Name | Mutank
Affiliation | Mutants
The Mutank was created from the wreckage of the Ratstar, using a remote activated transformation process.  The vehicle could seat all five Mutants (Ratar-O , Vultureman , Slithe , Jackalman , and Monkian ).  The body resembled the head of a rat.
The Mutank was used to tow the Ratstar back to Castle Plun-Darr where it was flipped and damaged by the ThunderTank.
Appearances
Gallery
Ad blocker interference detected!
Wikia is a free-to-use site that makes money from advertising. We have a modified experience for viewers using ad blockers

Wikia is not accessible if you've made further modifications. Remove the custom ad blocker rule(s) and the page will load as expected.