Pat Musick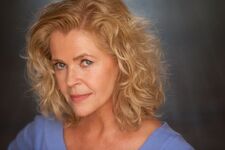 Pat Musick (born November 1st, 1956 in Lousiana, U.S.A.) is an American voice actress. Her best known roles include Tony Toponi in An American Tail and its sequels, Harold in All Grown Up, Charlie in Duckman: Private Dick, Family Man and Snappy in The Smurfs. She is the mother of Mae Whitman. She has also done voice work on Extreme Ghostbusters, Disney's House of Mouse and Teenage Mutant Ninja Turtles.

She provided the voice of Albo in the new ThunderCats (2011 TV series)
Ad blocker interference detected!
Wikia is a free-to-use site that makes money from advertising. We have a modified experience for viewers using ad blockers

Wikia is not accessible if you've made further modifications. Remove the custom ad blocker rule(s) and the page will load as expected.