ThunderCats Jigsaw Puzzles
ThunderCats Slide Puzzles
ThunderCats 3-D Puzzles
ThunderCats Board Game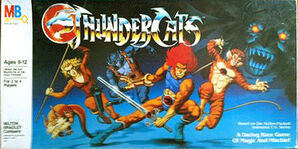 Made by: Milton Bradley in 1985
For 2 - 4 Players
Ages: 6 - 12 years
Game Includes 1 Gameboard, 8 Cardboard Pawns with bases, Deck of 54 cards, Sword of Omens, and 2 plastic Diamond Jewels. Instructions on box top.
"After their planet Thundera exploded, the ThunderCats came to Third Earth to start new lives. But they were followed by the Mutants of Plun-Darr, and are also plagued by Mumm-Ra, the ever-living, a creature from Third Earth. They seek Lion-O's mystic Sword of Omens. When Lion-O needs help he raises the sword and shouts, "ThunderCats! HO!" to summon the other ThunderCats: Pantro, Tygra, Cheetara, Wilykit, Wilykat and Snarf to aid in his battles and protect Third Earth."
ThunderCats Game
Made by: Peter Pan Playthings in 1985
For 2 - 6 Players
Ages: 12 years and up.
Battle through space to match up the THUNDERCATS characters! Match and collect complete characters to win the game. Spin the wheel in the center of the board and place a character's body part (either their head, body or legs) in the corresponding section of the board. Player with most correctly matched complete characters is the winner!
ThunderCats 3D Colorforms
Made in 1985
No. 6201
Size: 16 1/8" x 12 1/2" x 1".
Just put on the Magic 3D glasses to see the Thundercats spring to life in startling 3 dimensions. The 3D background gives the illusion of deep space, while the #D Colorforms plastic pieces seem to jump right out at you. It's a whole new dimension in Cokorforms Play Sets for hours of exciting fun.
Ad blocker interference detected!
Wikia is a free-to-use site that makes money from advertising. We have a modified experience for viewers using ad blockers

Wikia is not accessible if you've made further modifications. Remove the custom ad blocker rule(s) and the page will load as expected.