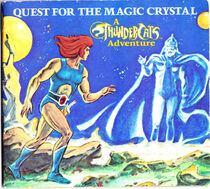 Quest for the Magic Crystal
Soft cover, November 1985, 32 Pages
Published by: Random House
Story by: Cathy West. Adapted from the teleplay by Peter Lawrence.
Illustrated by: Amanor
The courageous ThunderCats, forced to leave their home planet, begin a new life on strange and dangerous Third Earth. Led by young Lord Lion-O, keeper of the Mystic Sword of Omens, they'll need all their special powers just to survive!
This book is a retelling of Time capsule