Ad blocker interference detected!
Wikia is a free-to-use site that makes money from advertising. We have a modified experience for viewers using ad blockers

Wikia is not accessible if you've made further modifications. Remove the custom ad blocker rule(s) and the page will load as expected.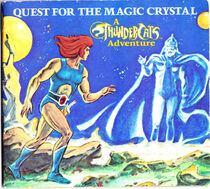 Quest for the Magic Crystal
Soft cover, November 1985, 32 Pages
Published by: Random House
Story by: Cathy West. Adapted from the teleplay by Peter Lawrence.
Illustrated by: Amanor
The courageous ThunderCats, forced to leave their home planet, begin a new life on strange and dangerous Third Earth. Led by young Lord Lion-O, keeper of the Mystic Sword of Omens, they'll need all their special powers just to survive!
This book is a retelling of Time capsule