Ratar-O (2011 TV series)
Talk

5
903pages on
this wiki
For the 80's incarnation, see Ratar-O.
Ratar-O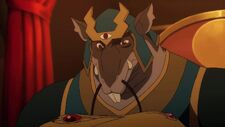 Statistics
Name | Ratar-O
Gender | Male
Species | Rat
Weapon(s) | Rat's Eye
Family | Ratilla (Ancestor)
Ratar-O is the dictator of the Rats.
History
Ratar-O is the descendant of Ratilla, who once wielded the Sword of Plun-Darr following Mumm-Ra's defeat. After Jaga defeated Ratilla, he envoked a curse on the Sword of Plun-Darr, where it was buried where Mount Plun-Darr now stands. Ratar-O begins the search for the Sword of Plun-Darr years later, where he has it excavated with the Thunderian slaves that he and his Rats bought from the Lizards. Of course, he lost some Cat slaves due to the Sword of Plun-Darr's curse.
Some time later, Lion-O, Tygra, Panthro, Cheetara and Pumyra raid Mount Plun-Darr in order to free the Thunderian slaves. While Tygra and Cheetara infiltrate the slave ranks, the others have an encounter with Ratar-O's servant, Mordax, who Pumyra beats up before Lion-O prevents her from killing him.
Mordax manages to capture them and hand them over to Ratar-O. When Tygra and Cheetara obtain the Sword of Plun-Darr, it causes an earthquake on Mount Plun-Darr as it collapses Ratar-O's palace there. Mordax turns against Ratar-O and gives Lion-O the Sword of Omens, so Lion-O can fight Ratar-O. Lion-O manages to defeat Ratar-O, who escapes underground.
Appearance
His design is very close to how he looked in the original series, but closer inspection shows that he actually looks more like the original Ratilla, at least in terms of costume design (Even his helmet is more similair to the Ratilla one than the Ratar-o one.)
Quotes
So you're the child king of the Thundercats, a shame you have no kingdom and an even greater shame I missed it's tragic fall.
Personality
He has a massive ego, is disrespectful to most (if not all) people, sometimes likes to boast about himself during battle, seems to love mocking his enemies, and is totally power hungry. This, however, leads to his downfall, as his right-hand man Mordrax turns on him for his constant cruelty and gives Lion-O his sword back during their battle.
Appearances
Gallery