Ad blocker interference detected!
Wikia is a free-to-use site that makes money from advertising. We have a modified experience for viewers using ad blockers

Wikia is not accessible if you've made further modifications. Remove the custom ad blocker rule(s) and the page will load as expected.
Ro-Bear-Bert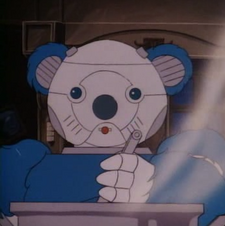 Statistics
Name | Ro-Bear-Bert
Gender | Male
Species | Berbil
Affiliation | ThunderCats
Weapon(s) | None
Voiced by  | None
|Ro-Bear-Bert cooking onboard the Berzerker's ship. As with all Berbil, Ro-Bear-Bert is skilled at agricultural work, growing special Berbil fruits. Ro-Bear-Bert is also a skilled cook.  Ro-Bear-Bert was one of the two Berbils that rescued Lynx-O, Pumyra and Bengali from the destruction of planet Thundera.  The other one being Ro-Bear-Bob.
Ro-Bear-Bert appears to be the main pilot of the Berbil spacecraft.  Ro-Bear-Bert does not talk as
much as his fellow Berbil Ro-Bear-Bob.
For a more detailed account, see the article on Ro-Bear-Bob.
Note: Ro-Bear-Bob is colored like the LJN toy for 'Berbil Bert' whereas Ro-Bear-Bert is more of a dark blue color.
Appearances
ThunderCats Ho! The Movie (Part One) - rescuing Bengali, Lynx-O, and Pumyra from Thundera; helping defend the stockade on the deserted island; captured by the Berzerkers and used as slave labor as a cook (with Ro-Bear-Bob)
ThunderCats Ho! The Movie (Part Four) - being rescued by Snarf from the Berzerker's ship (with Ro-Bear-Bob)