For Original version, see Ro-Bear Belle
Ro-Bear Bella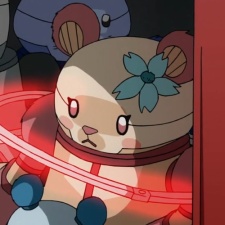 First appearance | Berbils (Episode)
Last appearance | Berbils (Episode)
Ro-Bear Bella
is a member of the Berbil race (also known as Ro-Bear Berbils), a group of small robotic bears.
History
Ro-Bear Bella is the wife of Ro-Bear Bill, the unofficial leader of the Ro-Bear Berbils.
She made friends with the ThunderCats after they saved her and her son from the Conquedor.
Abilities
Like all Berbils, Bella has the ability to form a small sphere, and roll and bounce at a relatively high speed.
Appearances
Ad blocker interference detected!
Wikia is a free-to-use site that makes money from advertising. We have a modified experience for viewers using ad blockers

Wikia is not accessible if you've made further modifications. Remove the custom ad blocker rule(s) and the page will load as expected.