Ad blocker interference detected!
Wikia is a free-to-use site that makes money from advertising. We have a modified experience for viewers using ad blockers

Wikia is not accessible if you've made further modifications. Remove the custom ad blocker rule(s) and the page will load as expected.
Rock Giant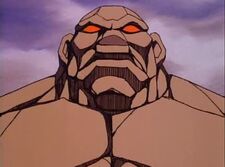 Statistics
Name | Rock Giant
Gender | Male
Species | Giant
Affiliation | Third Earth
Weapon(s) | Strength
Voiced by  | None
The Rock Giant was a creature that was created by Mumm-Ra out of stones and breaths fire. He was eventually destroyed by Lion-O using the power of fire.
Personality
The Rock Giant was extremely powerful but lacked in Brains.
Appearances
Trivia