Rosencrest Medallion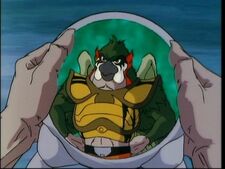 Statistics
Name | Rosencrest Medallion
Affiliation | Thundera
The Rosencrest Medallion once belonged to Zaxx and gave him his power.
History
When they fought over who would control all of Third Earth, Mumm-Ra managed to steal Zaxx's medallion and defeated him. Mumm-Ra then hid the medallion in a secret chamber in his pyramid.
Abilites/Powers
The wearer of the medallion gains powerful armor and magical protection provided by Zaxx himself, but he also slowly transform into Zaxx.
Appearances
Gallery
Ad blocker interference detected!
Wikia is a free-to-use site that makes money from advertising. We have a modified experience for viewers using ad blockers

Wikia is not accessible if you've made further modifications. Remove the custom ad blocker rule(s) and the page will load as expected.