Scooper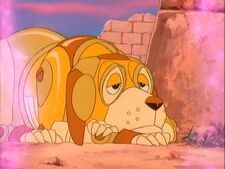 Scooper, a robot dog, came to Wilykit and Wilykat, as a birthday gift from the Berbils.
History
Scooper was a gift given to WilyKat and Kit by the Ro-Bear Berbils. Scooper has the unique ability to fly like a helicopter, and many other odd features.
Though he cannot speak, Scooper can communicate through a rotating computer screen that is built into his back. Scooper is the one who found the The Jade Dragon.
Appearances
Ad blocker interference detected!
Wikia is a free-to-use site that makes money from advertising. We have a modified experience for viewers using ad blockers

Wikia is not accessible if you've made further modifications. Remove the custom ad blocker rule(s) and the page will load as expected.