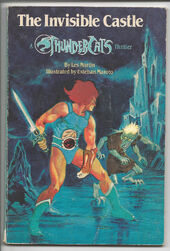 The Invisible Castle
Soft cover, March 1986, 64 Pages
Published by: Random House
Story by: Les Martin. Adapted from a screenplay by Peter Lawrence.
Illustrated by: Esteban Maroto
The castle lies in a ghostly realm. It is a place of dark shadows and darker powers, guarded by a creature who delights in twisted magic. Avoid this castle, whatever you do. Unless, of course, you are Lion-O, Lord of the Thundercats - and your beloved teacher Jaga is locked inside...
This book is a retelling of The Astral Prison