ThunderCats (original series) season guide
Talk

7
Share
Ad blocker interference detected!
Wikia is a free-to-use site that makes money from advertising. We have a modified experience for viewers using ad blockers

Wikia is not accessible if you've made further modifications. Remove the custom ad blocker rule(s) and the page will load as expected.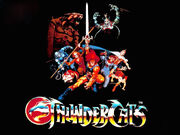 This list is intended to showcase accurate information concerning the episodes of the
ThunderCats (original series)
)
Seasons
KEY

| | |
| --- | --- |
| S | Season |
| # | Episode Number |
| N | Name of episode |
| AD | Air Date |
| WB | Writer of the episode |

The original show was divided into two seasons of 65 episodes a season on the DVD Box Sets with the total being 130 episodes. [1] However, the show aired as four seasons, which breaks up the two seasons into four seasons.
Episodes
| S | # | N | AD | WB |
| --- | --- | --- | --- | --- |
| 0 | 001 | Exodus | January 23, 1985 | Leonard Starr |
| 0 | 002 | The Unholy Alliance | January 23, 1985 | Leonard Starr |
| 1 | 003 | Berbils | September 11, 1985 | Leonard Starr |
| 1 | 004 | The Slaves of Castle Plun-darr | September 12, 1985 | Leonard Starr |
| 1 | 005 | Pumm-Ra | September 13, 1985 | Leonard Starr |
| 1 | 006 | The Terror of Hammerhand | September 16, 1985 | Ron Goulart, Julian P. Gardner |
| 1 | 007 | Trouble with Time | September 17, 1985 | Ron Goulart, Julian P. Gardner |
| 1 | 008 | The Tower of Traps | September 18, 1985 | Leonard Starr |
| 1 | 009 | The Garden of Delights | September 19, 1985 | Barney Cohen, Julian P. Gardner |
| 1 | 010 | Mandora - The Evil Chaser | September 20, 1985 | William Overgard |
| 1 | 011 | The Ghost Warrior | September 23, 1985 | Leonard Starr |
| 1 | 012 | The Doom-Gaze | September 24, 1985 | Stephen Perry |
| 1 | 013 | Lord of the Snows | September 25, 1985 | Bob Haney |
| 1 | 014 | The Spaceship Beneath the Sands | September 26, 1985 | Leonard Starr |
| 1 | 015 | The Time Capsule | September 27, 1985 | Peter Lawrence |
| 1 | 016 | The Fireballs of Plun-Darr | September 30, 1985 | William Overgard |
| 1 | 017 | All that Glitters | October 1, 1985 | Bob Haney |
| 1 | 018 | Spitting Image | October 2, 1985 | Howard Post |
| 1 | 019 | Mongor | October 3, 1985 | Peter Lawrence |
| 1 | 020 | Return to Thundera | October 4, 1985 | Bob Haney |
| 1 | 021 | Dr. Dometone | October 7, 1985 | William Overgard |
| 1 | 022 | The Astral Prison | October 8, 1985 | Peter Lawrence |
| 1 | 023 | The Crystal Queen | October 9, 1985 | Leonard Starr |
| 1 | 024 | Safari Joe | October 10, 1985 | Stephen Perry |
| 1 | 025 | Snarf Takes up the Challenge | October 11, 1985 | Peter Lawrence |
| 1 | 026 | Sixth Sense | October 28, 1985 | Peter Lawrence |
| 1 | 027 | The Thunder-Cutter | October 29, 1985 | William Overgard |
| 1 | 028 | The Wolfrat | October 30, 1985 | C.H. Trengove |
| 1 | 029 | Feliner, Part 1 | October 31, 1985 | Stephen Perry |
| 1 | 030 | Feliner, Part 2 | November 1, 1985 | Stephen Perry |
| 1 | 031 | Mandora and the Pirates | November 4, 1985 | William Overgard |
| 1 | 032 | Return of the Driller | November 5, 1985 | Howard Post |
| 1 | 033 | Dimension Doom | November 6, 1985 | Bob Haney |
| 1 | 034 | Queen of 8 Legs | November 7, 1985 | Stephen Perry |
| 1 | 035 | Sword in a Hole | November 8, 1985 | William Overgard |
| 1 | 036 | The Evil Harp of Charr-Nin | November 11, 1985 | Douglas Bernstein, Denis Markell |
| 1 | 037 | Lion-O's Anointment First Day: Trial of Strength | November 12, 1985 | Leonard Starr |
| 1 | 038 | The Demolisher | November 13, 1985 | Bob Haney |
| 1 | 039 | Monkian's Bargain | November 14, 1985 | Lee Schneider |
| 1 | 040 | Tight Squeeze | November 15, 1985 | Stephen Perry |
| 1 | 041 | The Micrits | November 18, 1985 | Bruce Smith |
| 1 | 042 | Lion-O's Anointment Second Day: The Trial of Speed | November 19, 1985 | Leonard Starr |
| 1 | 043 | The Rock Giant | November 20, 1985 | Peter Lawrence |
| 1 | 044 | Jackalman's Rebellion | November 21, 1985 | Bruce Smith |
| 1 | 045 | Turmagar the Tuska | November 22, 1985 | C.H. Trengove |
| 1 | 046 | Lion-O's Anointment Third Day: Trial of Cunning | November 25, 1985 | Leonard Starr |
| 1 | 047 | The Mumm-Ra Berbil | November 26, 1985 | Jeri Craden |
| 1 | 048 | Mechanical Plague | November 27, 1985 | Peter Lawrence |
| 1 | 049 | Trapped | November 28, 1985 | Stephen Perry |
| 1 | 050 | Lion-O's Anointment Fourth Day: The Trial of Mind Power | November 29, 1985 | Leonard Starr |
| 1 | 051 | Excalibur | December 2, 1985 | Peter Lawrence |
| 1 | 052 | Secret of the Ice King | December 3, 1985 | Bob Haney |
| 1 | 053 | Good and Ugly | December 4, 1985 | Peter Lawrence |
| 1 | 054 | The Transfer | December 5, 1985 | Lawrence DuKore, Lee Schneider |
| 1 | 055 | Divide and Conquer | December 6, 1985 | Lee Schneider |
| 1 | 056 | Dream Master | December 9, 1985 | Heather M. Winters, Annabelle Gurwitch |
| 1 | 057 | Out of Sight | December 10, 1985 | C.H. Trengove |
| 1 | 058 | The Mountain | December 11, 1985 | Danny Peary |
| 1 | 059 | The Superpower Potion | December 12, 1985 | C.H. Trengove |
| 1 | 060 | Eye of the Beholder | December 13, 1985 | Kenneth E. Vose |
| 1 | 061 | Lion-O's Anointment Final Day: The Trial of Evil | December 16, 1985 | Leonard Starr |
| 1 | 062 | The Trouble with ThunderKittens | December 17, 1985 | Kimberly B. Morris |
| 1 | 063 | Mumm-Rana | December 18, 1985 | Bob Haney |
| 1 | 064 | The Shifter | December 19, 1985 | Matthew Malach |
| 1 | 065 | Fond Memories | December 20, 1985 | Lee Schneider |
| 1.5 | 066 | ThunderCats - HO! Part 1 | September 8, 1986 | Leonard Starr |
| 1.5 | 067 | ThunderCats - HO! Part 2 | September 9, 1986 | Leonard Starr |
| 1.5 | 068 | ThunderCats - HO! Part 3 | September 10, 1986 | Leonard Starr |
| 1.5 | 069 | ThunderCats - HO! Part 4 | September 11, 1986 | Leonard Starr |
| 1.5 | 070 | ThunderCats - HO! Part 5 | September 12, 1986 | Leonard Starr |
| 2 | 071 | Mumm-Ra Lives!, Part 1 | September 7, 1987 | Leonard Starr |
| 2 | 072 | Mumm-Ra Lives!, Part 2 | September 8, 1987 | Leonard Starr |
| 2 | 073 | Mumm-Ra Lives!, Part 3 | September 9, 1987 | Leonard Starr |
| 2 | 074 | Mumm-Ra Lives!, Part 4 | September 10, 1987 | Leonard Starr |
| 2 | 075 | Mumm-Ra Lives!, Part 5 | September 11, 1987 | Leonard Starr |
| 2 | 076 | Catfight | September 14, 1987 | C.H. Trengove |
| 2 | 077 | Psych Out | September 15, 1987 | Sandy Fries |
| 2 | 078 | The Mask of Gorgon | September 16, 1987 | Romeo Muller |
| 2 | 079 | The Mad Bubbler | September 17, 1987 | Kimberly B. Morris |
| 2 | 080 | Together We Stand | September 18, 1987 | Herb Engelhardt |
| 2 | 081 | Ravage Island | September 21, 1987 | George Hampton,Mike Moore |
| 2 | 082 | Time Switch | September 22, 1987 | Sandy Fries |
| 2 | 083 | The Sound Stones | September 23, 1987 | J. Larry Carroll |
| 2 | 084 | Day of the Eclipse | September 24, 1987 | Kimberly B. Morris |
| 2 | 085 | Side Swipe | September 25, 1987 | William Overgard |
| 2 | 086 | Mumm-Rana's Belt | September 28, 1987 | James Rose |
| 2 | 087 | Hachiman's Honor | September 29, 1987 | J. Larry Carroll |
| 2 | 088 | Runaways | September 30, 1987 | Bill Ratter |
| 2 | 089 | Hair of the Dog | October 1, 1987 | C.H. Trengove |
| 2 | 090 | Vultureman's Revenge | October 2, 1987 | Herb Engelhardt |
| 3 | 091 | ThunderCubs, Part 1 | September 5, 1988 | Peter Lawrence |
| 3 | 092 | ThunderCubs, Part 2 | September 6, 1988 | Peter Lawrence |
| 3 | 093 | ThunderCubs, Part 3 | September 7, 1988 | Peter Lawrence |
| 3 | 094 | ThunderCubs, Part 4 | September 8, 1988 | Peter Lawrence |
| 3 | 095 | ThunderCubs, Part 5 | September 9, 1988 | Peter Lawrence |
| 3 | 096 | The Totem of Dera | September 12, 1988 | J. Larry Carroll |
| 3 | 097 | The Chain of Loyalty | September 13, 1988 | |
| 3 | 098 | Crystal Canyon | September 14, 1988 | Sandy Fries |
| 3 | 099 | The Telepathy Beam | September 15, 1988 | Kimberly B. Morris |
| 3 | 100 | Exile Isle | September 16, 1988 | William Overgard |
| 3 | 101 | Key To Thundera | September 19, 1988 | Matthew Malach |
| 3 | 102 | Return of the ThunderCubs | September 20, 1988 | J. Larry Carroll |
| 3 | 103 | The Formula | September 21, 1988 | Kimberly B. Morris |
| 3 | 104 | Locket of Lies | September 22, 1988 | Bill Ratter |
| 3 | 105 | Bracelet of Power | September 23, 1988 | Bill Ratter |
| 3 | 106 | The Wild Workout | September 26, 1988 | Becky Hartman |
| 3 | 107 | The Thunderscope | September 27, 1988 | George Hampton,Mike Moore |
| 3 | 108 | The Jade Dragon | September 28, 1988 | William Overgard |
| 3 | 109 | The Circus Train | September 29, 1988 | William Overgard |
| 3 | 110 | The Last Day | September 30, 1988 | J. Larry Carroll |
| 4 | 111 | Return to Thundera, Part 1 | September 4, 1989 | Peter Lawrence |
| 4 | 112 | Return to Thundera, Part 2 | September 5, 1989 | Peter Lawrence |
| 4 | 113 | Return to Thundera, Part 3 | September 6, 1989 | Peter Lawrence |
| 4 | 114 | Return to Thundera, Part 4 | September 7, 1989 | Peter Lawrence |
| 4 | 115 | Return to Thundera, Part 5 | September 8, 1989 | Peter Lawrence |
| 4 | 116 | Leah | September 11, 1989 | J. Larry Carroll,David Carren |
| 4 | 117 | Frogman | September 12, 1989 | Kimberly B. Morris |
| 4 | 118 | The Heritage | September 13, 1989 | Peter Lawrence,Bill Ratter |
| 4 | 119 | Screwloose | September 14, 1989 | William Overgard |
| 4 | 120 | Malcar | September 15, 1989 | George Hampton,Mike Moore |
| 4 | 121 | Helpless Laughter | September 18, 1989 | Matthew Malach |
| 4 | 122 | Cracker's Revenge | September 19, 1989 | William Overgard |
| 4 | 123 | The Mossland Monster | September 20, 1989 | C.H. Trengove |
| 4 | 124 | Ma-Mutt's Confusion | September 21, 1989 | Beth Bornstein |
| 4 | 125 | Shadowmaster | September 22, 1989 | |
| 4 | 126 | Swan Song | September 25, 1989 | |
| 4 | 127 | Touch of Amortus | September 26, 1989 | |
| 4 | 128 | The Zaxx Factor | September 27, 1989 | |
| 4 | 129 | Well of Doubt | September 28, 1989 | |
| 4 | 130 | The Book of Omens | September 29, 1989 | William Overgard |
References