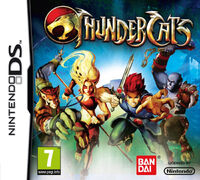 System:
Nintendo DS
Release Date: Oct 30, 2012
No. of Players: 1 player
Category: Action, Adventure
Publisher: NAMCO BANDAI Games America Inc.
Developer: Aspect Digital Entertainment
The hit animated high-action series claws its way onto the Nintendo DS™! After generations of prosperity and peace, Thundera has fallen into despair. The once proud nation was led into ruin by the Lizard army and its leader, the evil sorcerer Mumm-Ra. Become Lion-O and battle Mumm-Ra and his evil forces as you run, jump, and slash your way through action ripped straight from the new animated series. Wield the incredible power of the Sword of Omens and call upon your faithful companions in this epic side-scrolling adventure.
FEATURES:
Intense and dynamic gameplay - Exciting swordplay, intense battles and more!
Master Lion-O's special attacks - Deal devastating damage with the Sword of Omens
Summon the rest of the Thundercats - Call upon Tygra, Cheetara, Panthro, WilyKat & WilyKit to help in difficult battles. Each character possesses a unique support function and attack
Collect Memorial Cards - Acquire 100 different memorial cards by completing objectives throughout the game
Ad blocker interference detected!
Wikia is a free-to-use site that makes money from advertising. We have a modified experience for viewers using ad blockers

Wikia is not accessible if you've made further modifications. Remove the custom ad blocker rule(s) and the page will load as expected.