Home
Talk

16
903pages on
this wiki
ThunderCats Wiki



Welcome to ThunderCats Wiki. This site is a reference guide to everything ThunderCats related. All interested in editing or socializing here are required to read the Introduction Page first.
ThunderCats Wiki News
04/21/2012: Please go read my blog: Image Copyright Tags (Licenses), as it takes about changings and a policy change that will soon go into effect. If you upload images here, you are expected to read it.  Devilmanozzy (Talk Page)  23:15, April 21, 2012 (UTC)

01/01/2012: Happy New Year! One exciting change to start of the new year, Wingman1 has been promoted to a administrator. This was a no brainer as he has been a very active and helpful user for quite a while. So congrats to Wingman!  Devilmanozzy (Talk Page)  02:15, January 2, 2012 (UTC)

12/19/2011:As of December 20th, this wiki will expect all editors to have read and understood the "Introduction Page". This is to maintain a balance in here. We want a nice relevant wiki on ThunderCats wiki.  Devilmanozzy (Talk Page)  23:40, December 19, 2011 (UTC)

10/29/2011:There are forces pushing fan'ish speculation on this wiki. I also read a lot of debates/changes without any sources/references. I really as a administrator have the power to enforce rules/policies, especially when documented. So to those that find yourself in conflict, read policies on references and speculation both found on Community Portal. If you follow them, you should be much stronger in the argument you are presenting. Also, signing up to Wikia is helpful also. I am going to lay down the law from here on out, so this wiki is friendly and clean. Good editors will have no reason to fear these policies, and if you feel confused by them, hit up my talk page. I want order restored in this wiki. I don't want to start blocking/banning editors, but we need order here. Thank You.  Devilmanozzy (Talk Page)  03:08, October 30, 2011 (UTC)

10/03/2011:Ralok has been promoted to a Bureaucrat. This is a change in leadership to a degree. I (Devilmanozzy) was never meant to remain the sole Administrator. I came here to get the wiki in shape. I will remain as a Bureaucrat too, but only to help Ralok. Officially Ralok is the caretaker and leader of this project moving forward. I remain as second in command and will do PR and some project constructions.  Devilmanozzy (Talk Page)  05:48, October 3, 2011 (UTC)

09/07/2011:The chatroom now has Emoticons. I'll be adding Thundercat exclusive ones too, very soon.  Devilmanozzy (Talk Page)  19:54, September 7, 2011 (UTC)

08/10/2011:User:Ralok has been promoted to Sysop Administrator position. Don't forget to congratulate him. He has earned it.  Devilmanozzy (Talk Page)  23:22, August 10, 2011 (UTC)

08/06/2011:The third episode Ramlak Rising was aired last night. We at ThunderCats Wiki encourage feedback and perspective on episodes through blogs. Read fellow fans thoughts on the new episodes and/or write your own blog on it! Have fun!  Devilmanozzy (Talk Page)  09:15, August 6, 2011 (UTC)

06/30/2011: While I haven't been active here, I do care about current events and trends for this wiki. So I concluded that I'm turning on two features tonight to add spice here. I turned on Achievements which is a badge giving system. It's common in video games and the like. It is not for any try credit for editing here, but its fun to have something to have fun with. It may get proper ThunderCat badges made soon. Second, I turned on the chat room feature. This Wiki has the possibility of becoming a hot spot for fans, and a chat room is a nice thing to have. Hope to be getting back here to edit more often soon!  Devilmanozzy (Talk Page)  01:06, July 1, 2011 (UTC) 03/14/2011: Official Devilmanozzy has taken over as a temporary administrator. He has taken over to update the ThunderCats Wiki.  Devilmanozzy (Talk Page)  04:02, March 15, 2011 (UTC)
Main Sections of the Site for ThunderCats
Upcoming Episodes Promo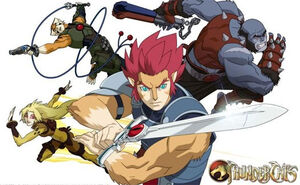 New ThunderCats Episodes of ThunderCats airing on Saturdays on Cartoon Network.
Main Sections of the Site for ThunderCats
Welcome to ThunderCats Wiki. We here at ThunderCats Wiki love feedback and we encourage you to write blogs and comment to blogs.
If you plan on editing, we require you to look at our FAQ first to know our rules on what is and isn't allowed. There is a slight chance you could be banned if you neglect to read it first. Other than that, Have fun and enjoy your stay!
'ThunderCats'© Copyright 1985-2011 Warner Bros. (Previously Owned by Telepictures Corporation/Lorimar Productions)
All images/screencaps are used under Fair Use.
All Text is covered under Creative Commons Attribution-Share Alike License 3.0 (Unported) (CC-BY-SA).
Please read more about copyrights and issues at Wikia Community Central.
For general rules for editing articles/adding images, go to Community Portal.
---