Trollogs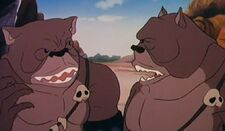 Statistics
Name | Trollogs
For the new version, see Trollog (2011 TV series).
Trollogs are a species of anthropomorphic, bulldog-like creatures that live in the caves to the north of the Berbil Village on Third Earth. They frequently raid the Berbil village to steal Berbil Fruit to give to the Giantors. However, the only food Trollogs are capable of eating is the leaves of the Krawberry bushes.
Appearances
Ad blocker interference detected!
Wikia is a free-to-use site that makes money from advertising. We have a modified experience for viewers using ad blockers

Wikia is not accessible if you've made further modifications. Remove the custom ad blocker rule(s) and the page will load as expected.