Two Time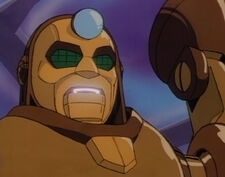 Statistics
Name | Two Time
Gender | Male
Species | Robot
Affiliation | Antagonist
Weapon(s) | Lasers
Voiced by  | Bob McFadden
Two time is a robot villain with two heads. He has his own spaceship called Dome-Down.
History
Two Time had captured a family of Thunderian refugees near the Churning Rocks on New Thundera. In his second appearance, Two Time ambushed an Ecology Inspector who was coming to inspect the new Cat's Lair, and even tried to contain Cat's Lair in his Dome-Down ship in order to sell it to other alien races.
Appearances
Ad blocker interference detected!
Wikia is a free-to-use site that makes money from advertising. We have a modified experience for viewers using ad blockers

Wikia is not accessible if you've made further modifications. Remove the custom ad blocker rule(s) and the page will load as expected.