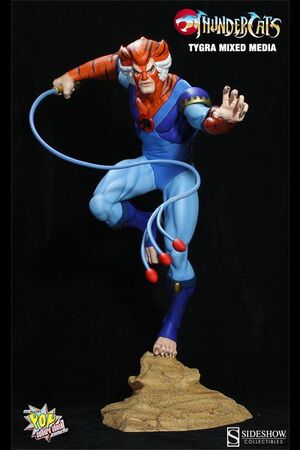 Status: Cancelled
Material: Mixed Media
Size: 32"
Sculpted By: Khurram Alavi
Art Director: Jerry Macaluso
Painted By: Mike Najera
Distributed by: SideShow Collectibles
This 1/4 th scale Tygra statue was unveiled at the 2012 San Diego Comic Convention (SDCC). The look of the statue was inspired form the Ed McGuinness artwork from the popular Reclaiming Thundera series. The statue was cast in high quality polystone and dressed with real fabric. The statue would have featured a second interchangeable head. However, due to low pre-orders, the statue was cancelled and never went into production.
Ad blocker interference detected!
Wikia is a free-to-use site that makes money from advertising. We have a modified experience for viewers using ad blockers

Wikia is not accessible if you've made further modifications. Remove the custom ad blocker rule(s) and the page will load as expected.