Unicorn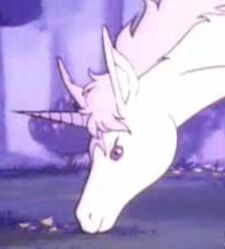 Statistics
Name | Unicorn
Gender | Male
Species | Animal

Unicorns are gentle horse-like creatures with a horn on their head. A herd is kept together by male and female Unicorn Keepers. Unicorns are considered rare creatures on Third Earth and often attempts are made by rogue beings to capture and sell them. The unicorns are shod, presumably by the unicorn keepers.
Apperances
Ad blocker interference detected!
Wikia is a free-to-use site that makes money from advertising. We have a modified experience for viewers using ad blockers

Wikia is not accessible if you've made further modifications. Remove the custom ad blocker rule(s) and the page will load as expected.