Hi there, I'm Meg2541, real name's Megan. Even though I've seen re-runs of the original Thundercats, I still consider myself a fan of the old version, but I'm a huge fan of the 2011 version.
My Favorite Character(s) in the Thundercats
Cheetara
- Cheetara has been my most favorite character since the beginning. She a very skilled fighter and very quick act whenever there's danger. At first I thought that she had deep feelings for Lion-O after they met. But after I saw the flashbacks of when she first met Tygra my thoughts changed. I also like she personality too.
Lion-O
- Lion-O is another one of my favorite characters, tied with Cheetara. His 1980's version was good, but I believe I like the 2011 version better. He's a very kind cat with a big heart.
There other charcters in the 2011 version that I like: Panthro, Tygra, Wilykat, and Wilykit, an Snarf. There will be others to come, too.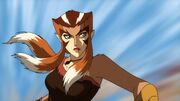 Pumyra
- I don't much about Pumyra's role in the new Thundercats yet, but from what I see she's so beautiful, and cool for a Thundarian.