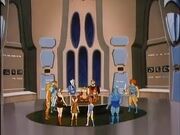 There is nothing that could please me more than when Wikia actually makes a feature or updates a feature that actually could be useful. Here comes the forum feature!
It has been no secret that I really wanted a forum feature for Thundercats Wiki (and Ghostbusters Wiki too) for ages. I was hoping for a feature that allowed topics and input without wiki know-how. I wanted it easy for non-wiki editors to be able to talk with use as well as us wiki editors.
The blog about the forum feature is here.
The test forum is here.