Vampire Mermaid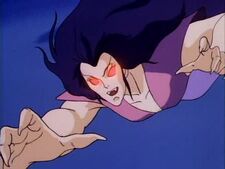 Statistics
Name | Vampire Mermaid
Gender | Female
Species | Mermaid
Affiliation | Mermaid
Weapon(s) | Vampire
Voiced by  | None

The Vampire Mermaid is a creature that lures people with her enchanting singing in order to feed on them by draining them of their blood. She was about to kill Tygra, but Lion-O saved him by trapping her in an underwater cave and sealing it with boulders.
First/Last Appearance
Ad blocker interference detected!
Wikia is a free-to-use site that makes money from advertising. We have a modified experience for viewers using ad blockers

Wikia is not accessible if you've made further modifications. Remove the custom ad blocker rule(s) and the page will load as expected.